FiiO FH5 In Ear Headphones – Review
It has been a while since I've listened to products from FiiO. Usually they have managed to impress me with the quality of their products, especially in that price range.
Now that I have a newborn, it's harder to find time to listen to my speaker system, so I started to look for a portable option. I also owned the first pair of in ears from FiiO, the EX1, which again were really nice for the price, but were a little bright (V sound) for my tastes on the long term. Meanwhile they have released a whole new bunch of headphones and their flagship at the moment is FH5. For the moment I have went directly to their flagship. Will probably test the models in between at a later time.
Introduction and Specs
The first impression when you look at them is really nice, from packaging to build quality, it shows it's their premium offering.
This is a hybrid in ear headphone, as it has both dynamic and armature drivers: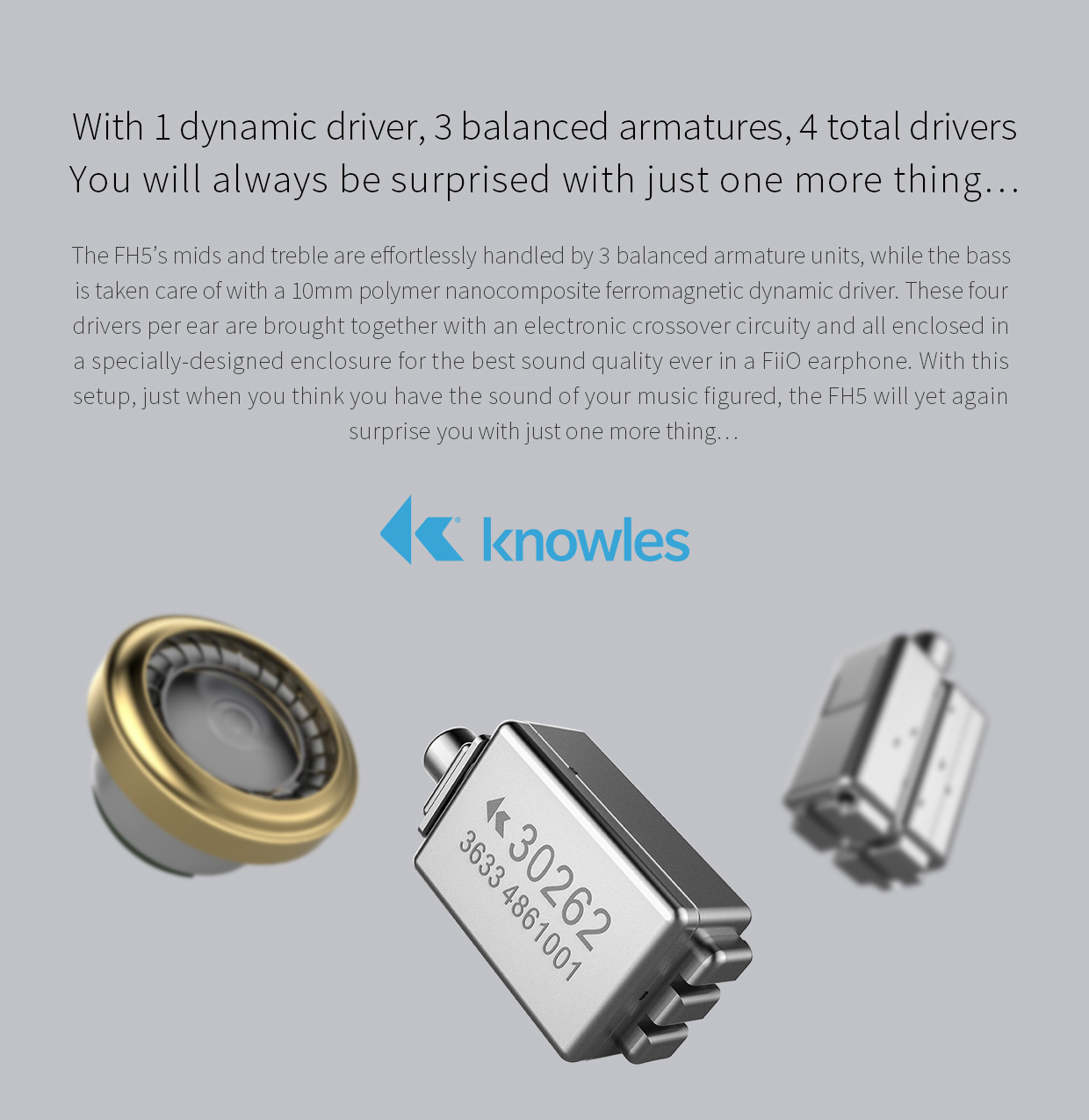 FiiO FH5 Specifications
Driver type
1 dynamic and 3 BAs(knowles)
Frequency response
15Hz ~ 40kHz
Sensitivity
112 dB/mW
Impedance
19 Ω
Plug
3.5mm gold-plated L-shaped plug jack (CTIA standard)
Cord length
1.2 m
Weight
8 g (single earbud)
Wearing type
Over the Ear
Detachable cable design 
Yes (standard MMCX connector)
A few things that caught my attention:
The FH5's low frequency sound tube adopts  FiiO's patented S.TURBO acoustic structural design. With its specially designed turbine-inspired design that makes clever use the physics of sound waves, you get meaty, deep bass that is more than capable of letting you feel the music. S.TURBO also filters out unnecessary mid and high frequencies produced by the bass  driver ensuring a more seamless transition between the lows and highs.

Inspired by the twin turbos of today's exotic supercars, the FH5 allocates one sound tube each for the low, mid, and high frequencies. These tubes have been designed to  impeccably integrate with the 4 driver units, allowing for a wonderfully smooth transition between the three main regions of sound frequencies to maximize the drivers' combined potential, bringing you a phenomenal symphony of music.
Tests and Impressions
For the tests I have used FiiO Q5 with AM3A balanced amplification module. I have tested both single ended and balanced output. The first thing I noticed was that the single ended output sounded dryer, flatter with less details, bass depth and less holographic soundstage.
I also tried them from my Oneplus 5 phone. I am actually aiming for my future new in ear headphones to sound good even from my phone for the moments I forget to take my Chord Mojo or other portable player.
I was pleasantly surprised to see that they sounded quite nice from my Oneplus 5. Considering the high sensitivity of FH5, I was surprised to see I didn't get any hiss or noise with Oneplus 5, while with FiiO Q5 I did have a slight hiss noise.
Of course, the level of detail, control and focus is better on FiiO Q5, but the sound quality was quite nice directly from the phone output as well.
I also wanted to test them with my Chord Mojo, but I am waiting to replace the battery, since the original one is dead now.
Edit:
I have managed to test FH5 with two more devices: FiiO Dragonfly Red and Aune B1 Class A portable amplifier.
Tested alone with Dragonfly, the result was interesting, the little red devil being able to infuse energy into the headphones. Overall they sounded very engaging and fun, but the sound was a little grainy and lost in terms of clarity / transparency.
The surprise came in when I have paired Dragonfly Red with Aune B1 as amplifier. I was floored by the level of transparency/clarity this combo was capable of. It actually fixed some of the lower midrange dip issue.
Today I have also tested them on the street in a noisy environment. I actually used them while going home from the office, 4 km walk through the center of Bucharest (really crowded place at that hour). The isolation was really good and I was able to enjoy the music very well. In this situation, I can't really say I cared about the W signature any longer. I think that the peak on the upper midrange actually helped in the noisy environment.
Summary
Bass
I think this is the best bass I have heard in in ear headphones until now. I must admit that I don't have a lot of experience with in ears, but the bass on FH5 is awesome. It goes deep, it hits well (not to hard, but enough to be enjoyable) and it has good detail and layering. It's not the most controlled bass I have heard, it is a little bloomy, but it's really enjoyable and a pleasure to listen to overall. FiiO did a great job here.
Midrange
The midrange is a little strange. It does have good details, good tonality, but the presence is a little weird here. It seems like we have a dip on the lower midrange and a peak on the upper midrange. This might lead to some songs that would have the voices/instruments weirdly presented overall. For example, low male voices are affected by the dip. Take for example Leonard Cohen, his voice is a little thinner than it should be, it doesn't have that presence, that characteristic that gives magic to his voice. On the other hand if you have some violins or some other instruments that are part of the upper midrange, you might get them emphasized in the music.
Now, there are some really nice parts here as well. The midrange has good details, texture and tonality overall. The details is actually quite nice and vibrant.
Treble
The treble on FH5 is overall quite detailed and extended. I did hear better here for example on Sennheiser IE800, but the treble on FH5 is more natural and smoother overall. I have listened to lots of classical music overall and I can't say I missed the treble or the air and I did find them quite enjoyable here as well, even though I did hear better extended treble with more air.
Vocals
I can say that overall the voices on FH5 are quite good. There are cases when male voices lose a little presence because of the dip on the lower midrange, but overall the voices have very good textures, detail and extension. They also sound quite natural. If the voices don't have a major part in the dip, they actually have a wonderful presence in the scene.
Details & Textures
I think these headphones pack a really good amount of details and the details come a natural way, even if the frequency is not really linear. The instruments & voices have vibrating, lively, naturally detailed textures. I was impressed on all music genres, from rock to classical music.
Tonality
Overall, even with the W sound signature, FH5 manage somehow to sound quite natural.
Soundstage, Imaging and Instrument Separation
The soundstage is not very expansive. It's intimat but it's holographic enough to make them enjoyable even on classical music. The imaging is actually precise and the instrument separation is really good.
Transient Response
This is an interesting aspect and I think it is noticeable that FH5 are hybrid, as the armature bass is a little tighter and more controlled. The bass on FH5 is a little bloomy. It has good attack, but the decay is not laser fast as armature usually have. I am not saying this is a lazy bass, as FiiO managed to get the right balance here, making that slight bloom to be euphonic and enjoyable without actually cutting into other frequencies. When it comes to the armature drivers, the transients are as expected quite fast with good attack.
Conclusions
These in ear headphones were quite addictive for me. They do have a W sound signature with a dip on the lower midrange and a peak on the upper midrange, but overall they sound wonderful. I actually prefer them to much more expensive in ears like Sennheiser IE800S for example, which I found to sound small, flat and unengaging in comparison.
FiiO succeeded again to offer something of great value for the money. I actually got addictive to them these 2 days I got them for the tests. I don't know if I can restrain myself from actually buying them.
Pros
The bass is awesome: excellent extension, good impact, very good detail and layering
Detailed, well textured midrange
Natural and smooth treble with good detail
Capable of superb transparency/clarity if paired with the right gear
Natural tonality
Good, holographic soundstage (even if sometimes on the intimate side)
Very good imaging & instrument separation
Very good detail, lively and natural textures
Awesome looks, build quality and accessories
Cons
They have somewhat of a W sound signature: dip on lower midrange and peak on upper midrange. If FH5 wouldn't have the lower midrange dip, these headphones would be absolutely awesome!